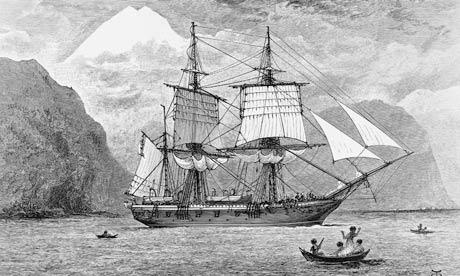 The Guardian UK has a delightful article that describes the confluence of history, science, and adventure that turns on the story of Darwin, the redesign of the HMS Beagle, and NASA scientists today – and ways they inspire modern K-12 education. At the heart of the article is a wonderful quote, that "Inspiration, then, fuelled by adventure, was the trigger for Darwin's lifelong commitment to science. Over the past few years the Beagle Project team has worked to bring the adventure of science back into focus."
I think this affinity for adventure and discovery among students is a big part of what makes public service so attractive at MIT – its the opportunity for students to apply their problem-solving skills in very different and unfamiliar contexts that stretch their learning. This is exciting, and it's also problematic, and goes to the heart of a robust debate that Bruce Nussbaum kicked off a few months back on design and the new "imperialism." When the HMS Beagle – a very adept ten gun sloop of war of the British Navy – set out on its historic voyage nearly 180 years ago, Britain was at the apex of its colonial expansion, and the voyage marked a projection of power far more than it did a scientific endeavor.
In today's world, where does technical and scientific "adventure" end and the projection of power begin? Its essential that students today – especially those with the talent required to enter the world's top technical universities – understand the limits to human well-being and some number of them dedicate themselves to addressing those challenges. When does that become something else – the truncation of local problem-solving capacity, the delivery of sub-optimal outcomes for communities, and at the end of the day the expansion of exogenous ideas and modes of living?
There are many benefits to students who elect to problem solve, using the world as it is as a laboratory environment. Often, the acute dimensions of a problem, the resource constraints, and the unfamiliar – often more harsh – living environments draw students to distant places – locations where no formal agreements, work protocols, regulatory environment, or accountability mechanisms exist. And as these are often non-scientific undertakings – in our case under the rubric of "public service" – human subjects review is often non-existent.
With such a broad sphere of influence, what are the criteria for ethical work? To what standards of excellence, perseverance, and impact should the student be held accountable?
A few thoughts as I think about the excitement of journey, discovery, and problem-solving. I'd welcome insights from student experiences – on the proposition of "the allure of adventure" and the ethical dimensions implied by that work.